ABOUT HERRING ISLAND PARK
---
Getting There
---
Herring Island is always open to the public, but it is an island - so unless you wish to swim there, (not recommended), you will need to have your own canoe / boat; or during summer months, "Parks Victoria" provide a ferry from Como Landing (in Alexandra Ave., South Yarra - Melway ref 2M C3 or 58 G2) to the island on weekends.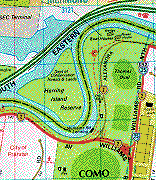 "The Friends of Herring Island" have a number of planting days each year from late autumn until early spring, and the public are welcome to participate. "Parks Victoria" assist the Friends on these days by providing transport to the island.
"Friends" days for this year will be on the 1st Sunday of each month. Planting will be done in June, July & August, and weeding and general maintenance will be undertaken from September until May. Ring Damian Curtain on 9428 8620 for more details.
"Melbourne River Cruises" run cruises every hour from 10.00 a.m. to 4.00 p.m. (11.00 - 4.00 Oct - Dec., 11.00 - 3.00 May - Sep) from Princes Bridge up the Yarra River and around the island daily - phone (03) 9629 7233 for details.
---
Facilities on Herring Island
---

Herring Island is divided into two main areas: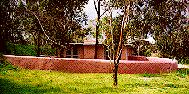 The eastern end near the jetty has a public access area with water, 2 barbecues and toilet facilities. There are no rubbish bins on the island, anything that you bring to the island, you will need to take home with you. The old scout hall has been renovated and is now an art gallery and function centre (pictured here - click to see the old scout hall and temporary toilets). Check with "Parks Victoria" for details. The low wall near the gallery is one of the few examples of straw-bale building in Melbourne. There are 3 sculptures in this area by Julie Collins, Robert Jacks and Ellen José.
This area was originally dotted with mullock heaps where silt from the Yarra river dredging was dumped. The heaps were overgrown with kikuyu grass; these have now been levelled and a lawn planted (pictured here - click to see the oval under construction). Some of the better established clumps of trees in this area were retained and further plantings of trees shrubs and grasses undertaken.
The western end is the conservation area where there are a number of sculptures including "Herring Island Cairn" by British Sculptor, Andy Goldsworthy created for the Melbourne Festival 1997. The cairn is pictured here.
Herring Island was the venue for the Melbourne Festival's Environmental Sculpture Park, with international and local artists working on the island. There was a pontoon bridge across the river from Como landing to Herring Island on the 18th October 1997 and a ferry service daily from Como Landing during the festival. Another sculpture by Robert Jacks was created for the 1998 Melbourne Festival and Robert Bridgewater created a sculpture for the 1999 Festival.
VIEW THIS SITE WITH A MENU BAR

About Herring Island | Getting to and What's on | Island Map | Artworks | Plants | Birds | Sir Edmund Herring | 6 seasons | Other Sculpture Parks
To join the Friends | Annual Reports | Planting Days | Our other Friends

---
VISIT HERRING ISLAND SOON!